DTSL Assistive Technology are the official New Zealand reseller for HelpKidzLearn
---
What is HelpKidzLearn?
HelpKidzLearn is a collection of software for young children and those with learning difficulties to play online. The software is split into five sections: Early Years, Games and Quizzes, Stories and Songs, Creative Play & Find Out About.
You will get the most out of these activities if you play them together with your child. Use them as a focus for chatting. Speaking and listening is very important for young children's educational development, particularly reading and writing.
HelpKidzLearn has been created by Inclusive Technology Limited, a commercial organisation providing assistive technology and educational software. Inclusive's primary focus is special needs education, but they also have catalogues for early years and primary education.
HelpKidzLearn Benefits
Regularly updated content
Lots of accessible online games and activities
Access using a switch(es), touch screen, mouse,joystick, rollerball, or an eye gaze communication solution
Over 30 accessible iPad and Android Apps for mobile learning, each carefully designed to meet a range of special educationalneeds including switch access for those with physical disabilities
How to Subscribe
To subscribe to HelpKidzLearn, please contact DTSL at atinfo@dtsl.co.nz, or call us on 0800 864 382.
---
Learning Progression and Outcomes Guidebook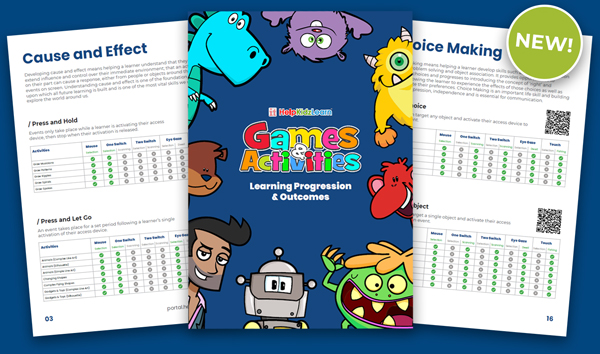 Games and Activities are organised into meaningful learning objectives, beginning at cause and effect level and early interaction, through the range of skills required to be able to make independent choices. Learning objectives are split into key milestones, representing targets in a series of small, achievable steps that you can set and teach a progression of skills.
This document will help you assess your learner's baseline, set achievable learning milestones and provide you with all the help you need to teach these important skills in a way which is both meaningful and motivating for your students. With this information, you can plan routes to success for learners using their devices to access communication, learning and leisure.
---
You can visit the HelpKidzLearn website at
---
Videos