Pretorian EnvirON is a highly versatile suite of assistive environmental control devices designed for disabled users to help them achieve their maximum level of independence. The system may be used to control almost all appliances normally associated with daily living, using one or more input methods simultaneously, including:
The Environ iPhone/iPad app
Large-key programmable remote (with scanning facilities)
As its name suggests, EnvirON Hub is the heart of the system and is required in most EnvirON systems. It can:
Convert wireless signals from any of the EnvirON input devices (mentioned above) into infra-red to control a TV or music system.
Accept user input from the EnvirON app and convert it to infra-red or wireless signals to control the iClick mains appliance controller/EnvirON Connect door/window/curtain opener and closer.
---
The Bundle
EnvirON Hub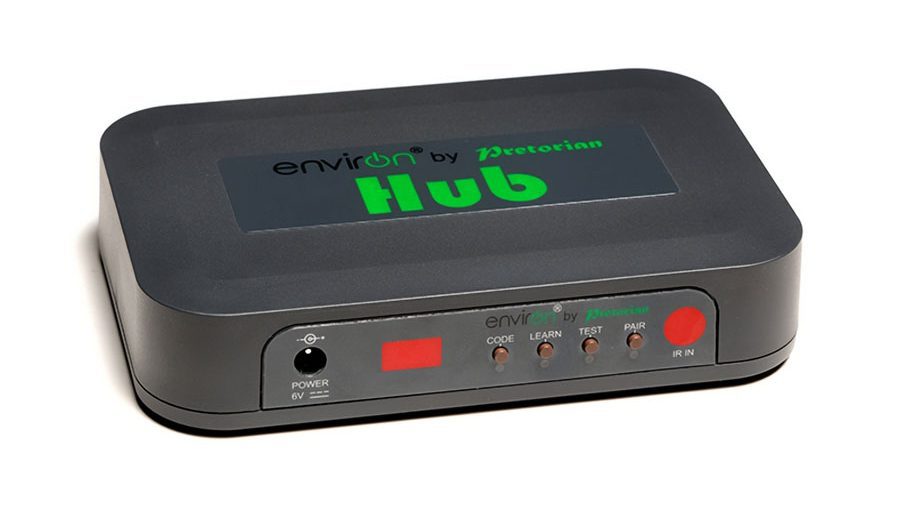 EnvirON Hub is the heart of almost all EnvirON environmental control systems.
Features
'Learning' infra-red remote control can learn up to 16 individual codes from almost any TV or music system.
Can also learn up to 8 'macro' codes comprising up to 4 individual remote key presses, allowing the user to access higher channel numbers by pressing a single button.
Forms a 'bridge' between EnvirON App and other EnvirON products.
Can be paired with up to 6 EnvirON transmitters such as Scanning Remote (included) and Wireless Switch.
Permanently powered from supplied wall adapter.
EnvirON Scanning Remote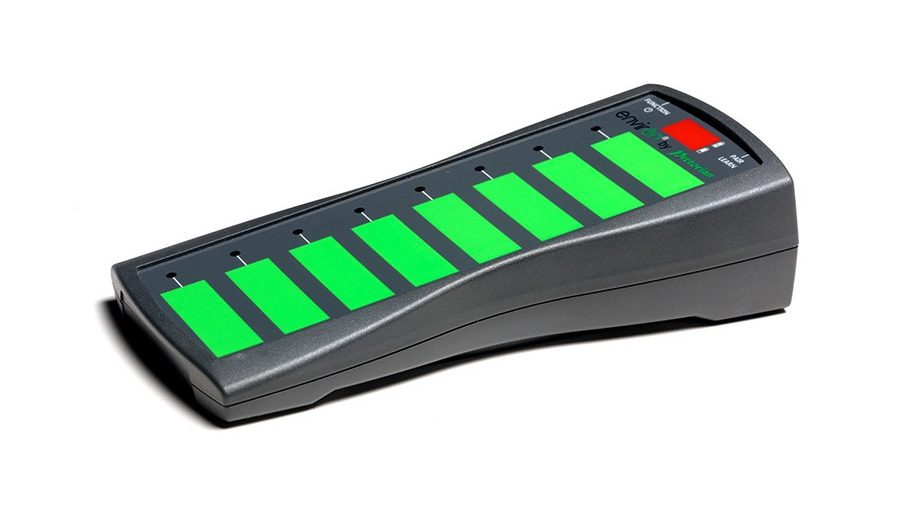 EnvirON Scanning Remote is a handheld or mountable remote control which forms part of the innovative EnvirON range of environmental controls.
Features
Eight programmable, touch-sensitive buttons.
Can be paired with multiple EnvirON receivers to control multiple appliances.
Can control wireless and infra-red (via the Hub) devices.
Does not need to be in line of sight of infra-red devices.
Single or two-switch scanning option.
Built-in rechargeable battery.
Free standing or mountable.
Works simultaneously with other EnvirON devices and the EnvirON App.
---
Videos
---
EnvirON App
Compatible with iPhone and iPad (requires Bluetooth 4.0 or better)
Choice of 1, 2, 6, 15 or 24 buttons on screen
Choice of button colour, replace with a library image or with a photo.
Seamlessly controls both infra-red and mains appliances via EnvirON Hub.