Help struggling writers overcome barriers to progress with DocsPlus, Crick Software's award-winning writing tool for secondary schools.
The DocsPlus app provides secondary school students with age-appropriate tools to support writing across the curriculum.
---
Create Structured Writing
Intelligent word prediction, writing frames and curriculum vocabulary banks enable students to demonstrate their knowledge and achieve writing success.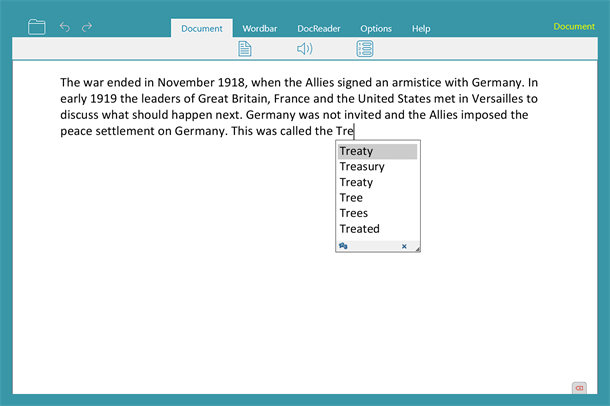 Intelligent Word Prediction
DocsPlus' intelligent Predictor is always there to help students write more independently. The Predictor suggests words based on the context of the student's writing, enabling them to give their full attention to what they want to write and encouraging them to use more adventurous vocabulary.
Use of the Predictor results in greatly improved coherence, spelling and grammar, and helps to increase the writing productivity of learners who struggle to transfer their knowledge and ideas to the page.
Both the Predictor and the customisable spell checker are speech supported, so that students can hear a word before they use it.
---
Curriculum Vocabulary Banks and Writing Frames
For students who experience significant literacy barriers, completing the writing tasks that are an integral part of every curriculum subject can be a real challenge. DocsPlus enables you to provide these students with curriculum 'Wordbars', giving them instant access to the specific words and phrases they need for their current assignment.
Use A-Z Wordbars for your Word Banks, or categorise your words by labelling your tabs with any text you like. Students can select any word to listen to it first before using it in their writing.
Another real learning curve for secondary students is understanding how to structure different genres of writing. Using a Wordbar, you can teach them those structures by offering paragraph starters and the relevant supporting vocabulary.
---
Create your own or access Wordbar bank!
When you buy DocsPlus, you also get free access to hundreds of ready-made Wordbars via the LearningGrids website.
The resources cover a wide range of curriculum topics, and more are added regularly by our curriculum team. They are very easy to edit, enabling you to tailor activities to your exact requirements.
It's also incredibly quick and easy to make your own resources from scratch with our intuitive Wordbar Wizard – simply decide if you'd like a topic or A-Z grid layout, type or paste your text in and click create. In a matter of minutes, you've created a curriculum-specific support grid to help your students scaffold their writing!
---
Proof and Review Work
Realistic speech feedback enables learners to listen back to their work and encourages them to proactively find and correct errors for themselves.
Realistic Speech Feedback
Each time a sentence is completed in DocsPlus, it is automatically read aloud in a clear, human-sounding voice, with each word highlighted as it's spoken. This encourages students to punctuate their work, and ensures that they review each sentence before starting the next one. Those needing more support can have each word or even each letter read aloud as it is entered, providing instant feedback.
In addition, DocsPlus' predictor, spell checker and Wordbars are also fully speech-supported, enabling students to check that they are selecting the right words before using them in their writing.
---
Access Curriculum Content
Many students struggle to read worksheets, which impacts on their ability to access the curriculum, develop their understanding of a topic and complete related lesson tasks.
DocsPlus has an integrated 'DocReader' that will read aloud any PDF, providing equal access to worksheets, exam papers and more.
Simply select the text that you want to hear and choose 'Speak' – the words will be read aloud in a clear, British English voice, and each word will be highlighted as it is spoken.
(Top tip – convert curriculum PowerPoints into PDF documents to make these accessible for your struggling readers too!)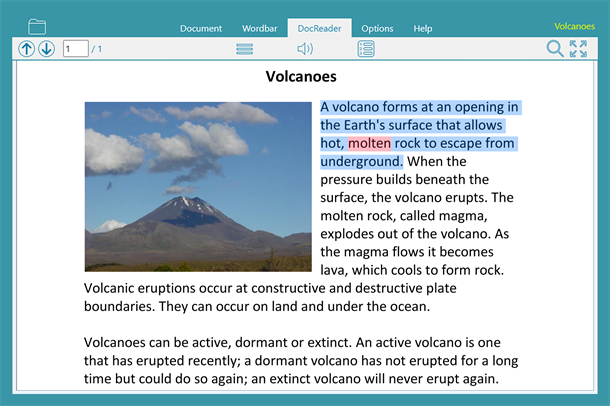 ---
Address a Variety of Learning Needs
Change how the app looks and acts to meet each child's learning needs. Adjust the Predictor and speech settings, use high contrast colour schemes, or turn on our SuperKeys accessible keyboard.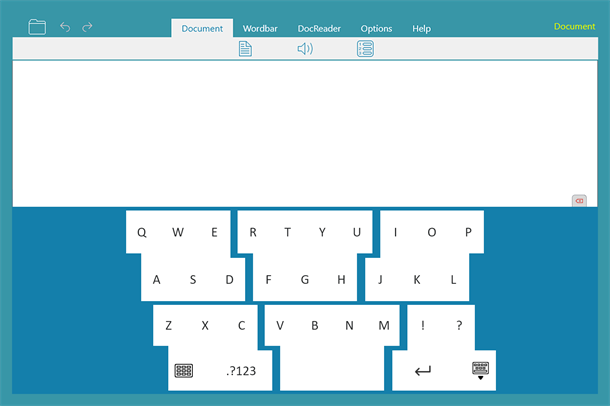 ---
What License Do I Need?
Student Support License
Student Support Licenses are designed for individual students and are provided via MOE Assistive Tech applications.
OneSchool License
OneSchool Licenses are designed for schools or educational institutes to purchase directly for one or more students.
Home License
Home Licenses are designed for parents to purchase directly for their child only at home – these cannot be supplied to schools, or education staff or providers.
All Licenses
All licenses are supplied as a 3-Year Subscription
---
Free Trial
You can try DocsPlus for free by using the buttons below: