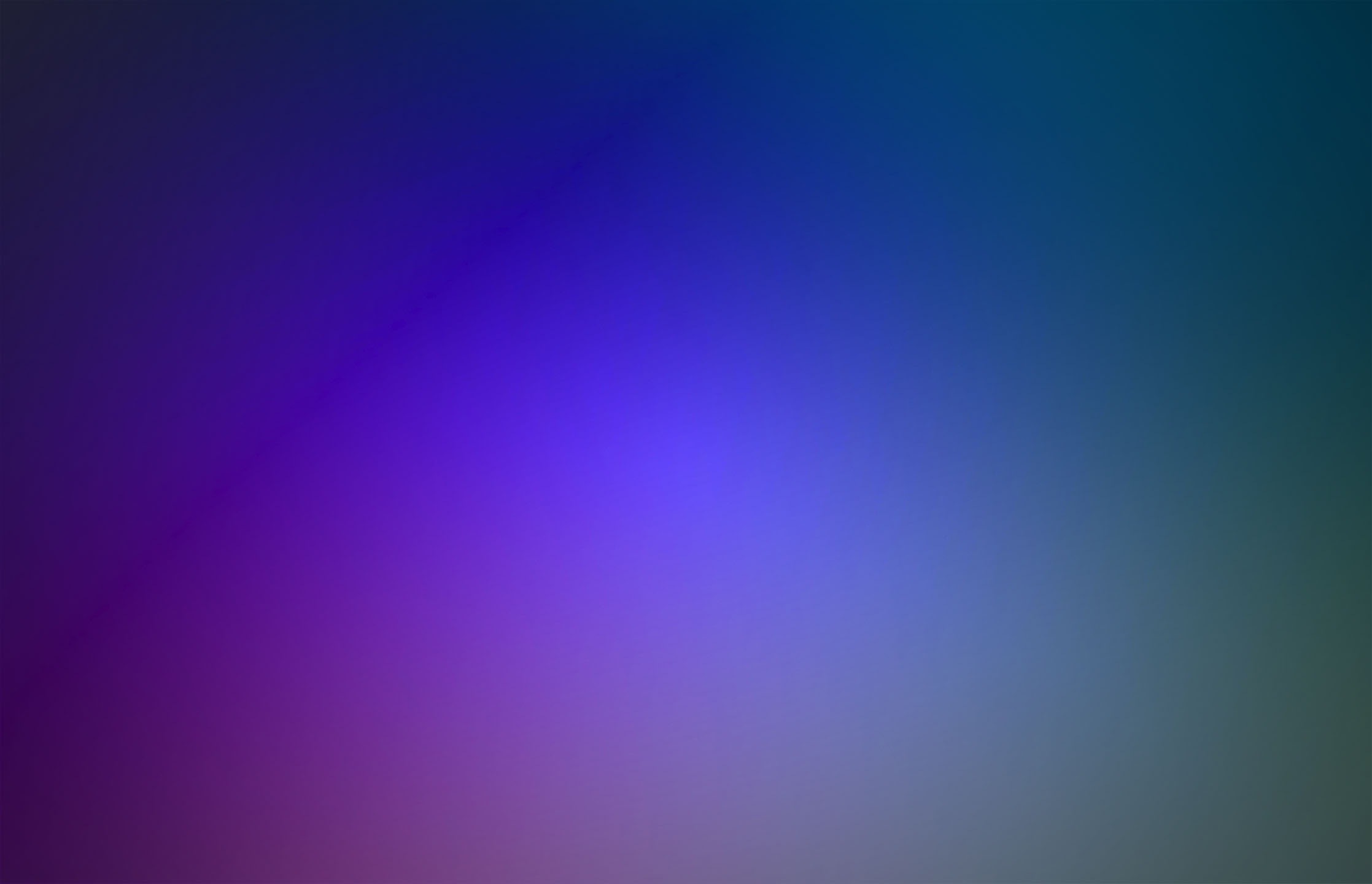 Enable independent reading with award-winning assistive technology.

A game changer for those living with dyslexia
Reader 2 is a reading pen with monolingual dictionaries providing word definitions. Supports independent reading and learning.
Robust, portable, pocket-sized reading pen that reads text out loud with a human-like digital voice.
Designed to promote independent learning and is a major technological breakthrough for any student living with reading difficulties such as dyslexia.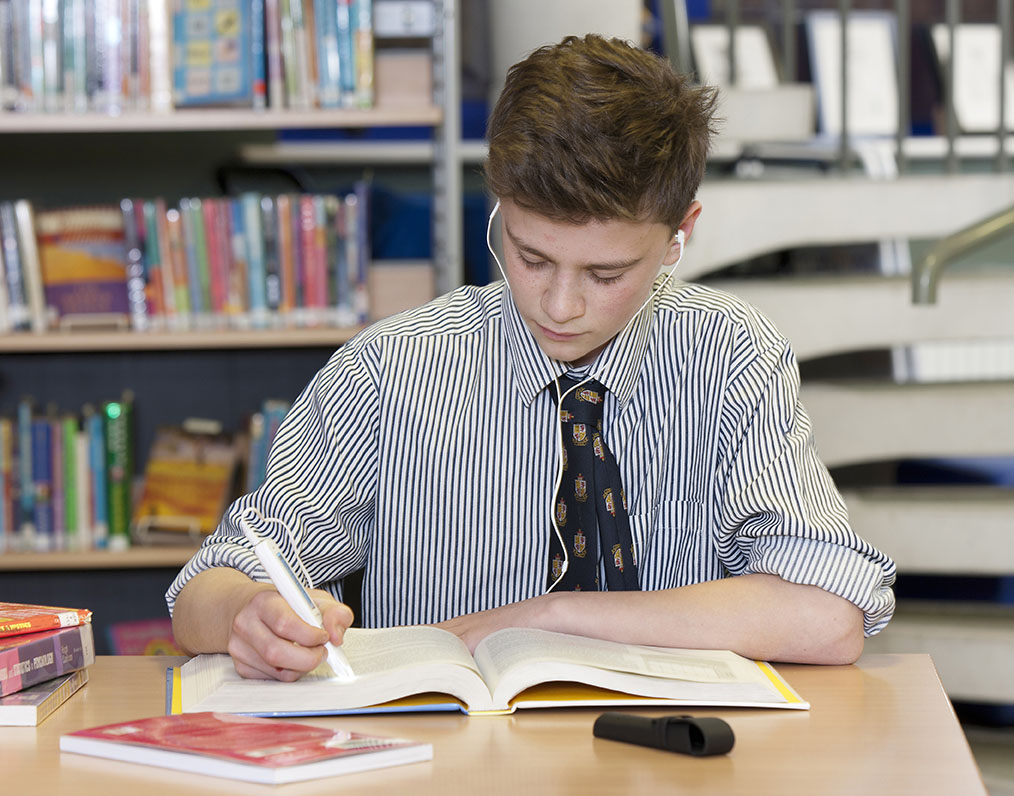 ---
What is Reader 2?
The C-Pen Reader 2 is the successor to the ReaderPen, building on its unique function and developing even greater functionality to support users both in and around the act of reading. As well as the high-end, dependable reading support the ReaderPen offered, the C-Pen Reader 2 comes equipped with a suite of adaptations to make the user experience even better.
The C-Pen Reader 2 features AI that scans and reads a wider range of fonts.
Everything is built-in and there is no need or requirement for internet connection.
Develop the ability to read and understand
Use Reader 2 to support independent reading of text with natural voices and to better understand the meaning of words – and learn easier. Textbooks, magazines and document, their content can all be unlocked with the aid of Reader 2.
The digital highlighter – alongside with the text-to-speech function – supports multi-sensory learning and aid language retention. Use the included voice recorder to support learner revisions. Students can record pronunciations or objectives from teachers to develop independent learning.
Designed to scaffold reading independence
Reading unlocks potential. From pre-school to the workplace, the challenge of reading can be supported. Individuals with neurodiverse differences or difficulties with literacy can succeed with reading.
Taking on these unique challenges is part of creating a more neuro-inclusive future for all of us. The C-Pen Reader 2 is an assistive reading tool designed to put users in control of tasks, featuring high-speed AI-based text recognition, dictionary support and a syllable-by-syllable breakdown tool to foster reading skill development as it supports wherever or whenever it's needed.
Te Whiri Kōkō RTLB C-Pen Trial Report
The project was proposed by us as we needed New Zealand based data.
More importantly, we needed to know how the ReaderPen would benefit dyslexic students or students with a high literacy need.
In 2019 and 2020, we supported our local Te Whiri Kōkō RTLB with a series of trials within schools using the ReaderPen.
To find out more, please check out the NZ Principals magazine article.
---
New Zealand Articles
---
New Zealand Radio
---
Trials
Please contact us via email or phone, if interested in a free trial of the C-Pen
---
Improvements
Improved Speed & Performance
Enhanced CPU and internal memory provides faster loading times to make scanning even easier.
---
New AI Text Recognition
Higher speed reading improves scanning and supports more fonts, voices, and languages than ever before.
---
Bigger & Better Interface
Sharper screen with larger icons and text makes menu navigation even easier.
---
Enhanced Voice Recorder
The in-built microphone is even louder and clearer, so you can listen back to dictations with ease.
---
Audio Boost Function
Increase maximum volume levels so you can hear the scanned text read aloud clearer.
---
Fast Speak Option
Increase the speed of the voice so it reads text out loud more fluently for increased efficiency.
---
Features

Text to Speech
Reader 2 promotes independent reading.
This reading pen reads text out aloud with a human-like digital voice.

Definitions
Reader 2 contains premium monolingual dictionaries providing definitions of words.
Definitions are possible to have read out loud.
---
Included Dictionaries:
English: Collins 30th Anniversary Edition 10th Edition, Oxford Primary Dictionary, New American Oxford Dictionary
French: La Dictionnaire Français Cordial
Spanish: Larousse Editorial S.L.

Interfaces
Reader 2 features a micro-USB port and 3.5mm headphone jack.
Recharge the battery using the included micro-USB to USB Type-A cable.
Plug in any headphones with a 3.5mm plug for discreet usage.

Compact
Reader 2 is robust and compact and fit for use by both kids and adults.
Able to be used left-handed or right-handed.

Scan Languages
Recognises English, French and Spanish.

Voices
Speaks in English, French and Spanish.
---
Included Voices:
English: American English, Australian English, British English, Indian English, Irish English and Scottish English
French: European French and Canadian French
Spanish: European Spanish and Latin American Spanish.

No Wi-Fi Required
Completely self contained.
No need for an internet connection.

Up to 5GB User Space
Stores 600,000+ A4 pages of text or 3 days of continuous voice memo.
Scans and stores text internally as well as scans to computer (no software required).
Use the voice recorder for memos and to develop vocabulary and pronunciation.
---
Videos
---
More Details
Storage
16 GB total
(~5 GB User Space available)
---
USB
Micro-USB / USB 2.0 High Speed
---
---
Headphone Jack
3.5 mm
(Earphones included)
---
Battery
600 mAh
Rechargeable Li-ion
---
Scan Font Size Range
6.5 – 22 pt
---
Menu Languages
English, French, Spanish
---
---
---
First tier embedded dictionaries, including: Collins 30th Anniversary Edition 10th Edition, Oxford Primary Dictionary & New American Oxford Dictionary
Certifications: UKCA, CE, RoHS, FCC
AI-Based OCR (Optical Character Recognition)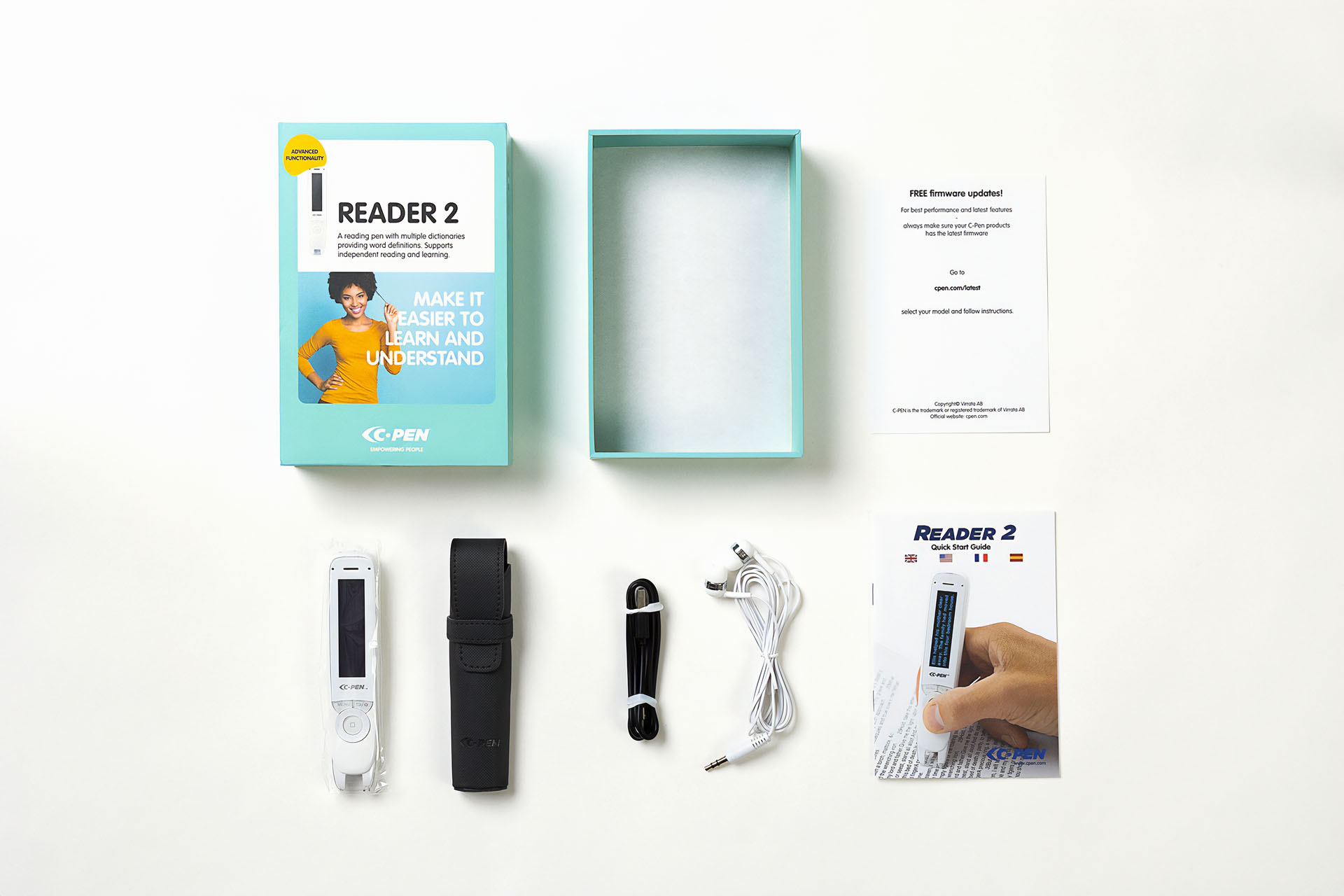 C-Pen Reader 2
Black Carry Case
Instruction Manual
USB Cable
Earphones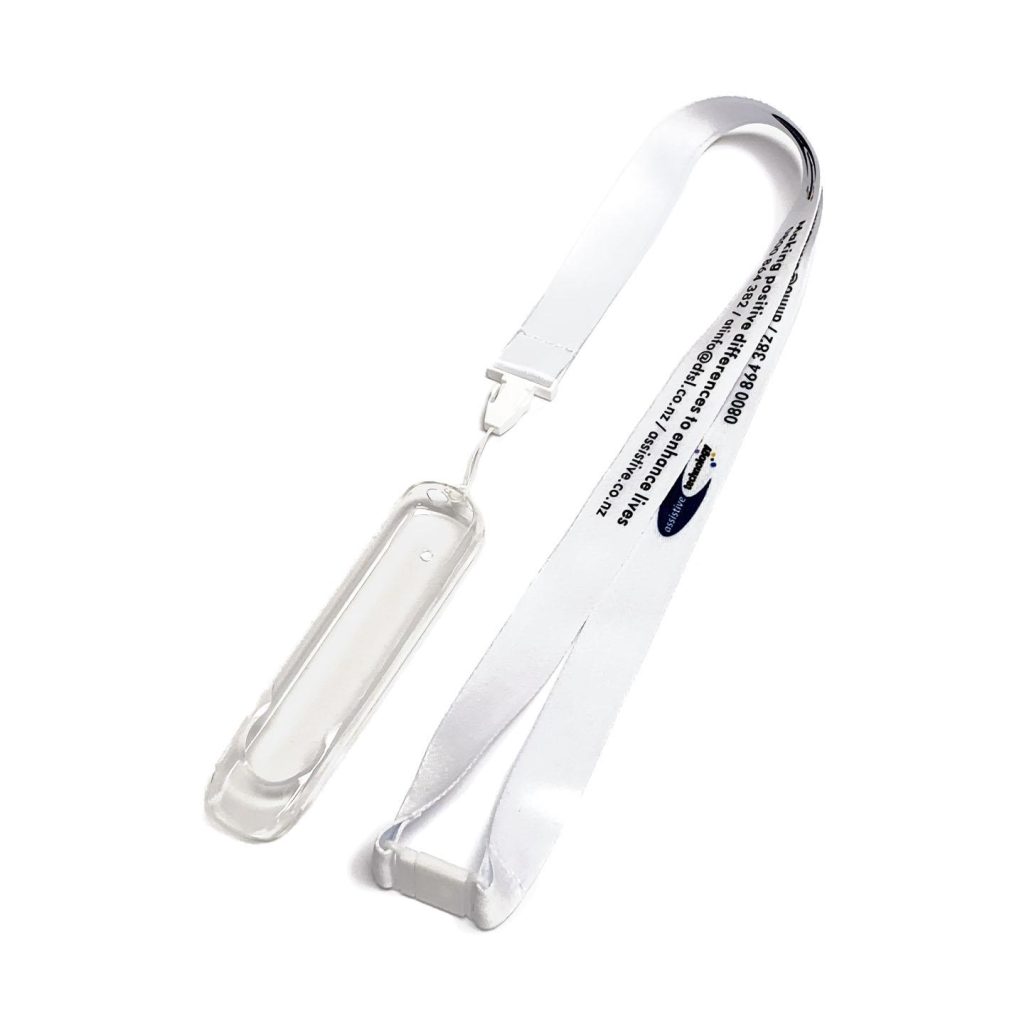 Clear Protective Case
Lanyard
---
Support
Reader 2 Guide
View the C-Pen Support website
C-Pen Support
View our Support page