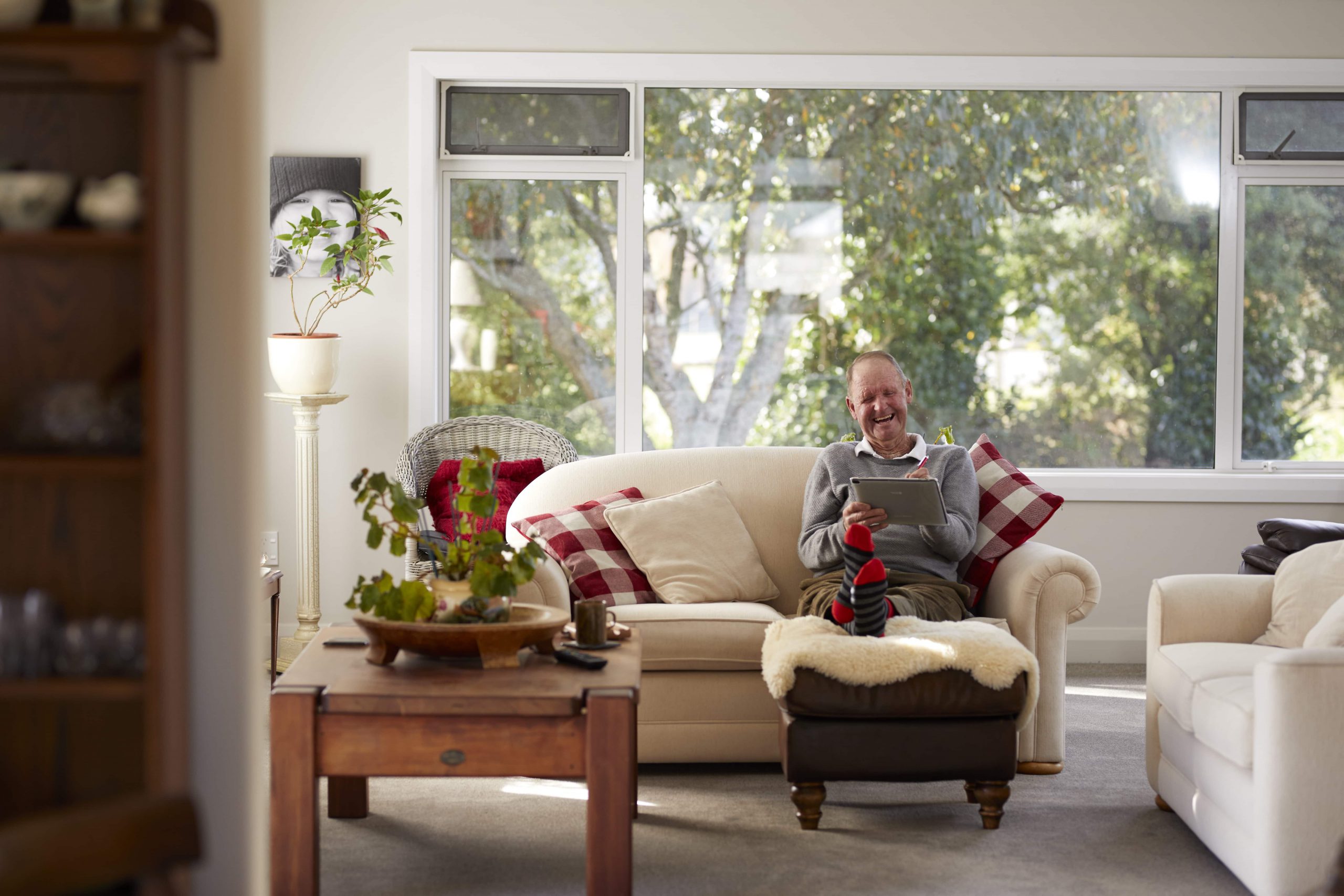 Keep in touch easily, with Kitcal
Kitcal is a specially designed tablet that helps our non-tech-savvy seniors stay socially connected to their whānau and friends.
Super Social. Super Simple. Super Supportive.
Kitcal connects the senior generation to family and caregivers, so keeping in touch daily is as easy as the touch of a button.
Super Social
Kitcal allows the senior generation to stay socially connected to all of the great things their friends and whānau are doing.
Super Simple
The Kitcal tablet is simple and intuitive by design, from its clear layout and large buttons to its easy-to-use emoji replies.
Super Supportive
Remote access to the Kitcal tablet enables support from family and caregivers via their app, even when they can't be there.
---
Features
5 Key Features in Kitcal's Dedicated Tablet
With five intuitive features, Kitcal is the simplest way for senior Kiwis to virtually connect with their nearest and dearest.
Keep In Touch
The two-way 'Keep In Touch' feature allows Kitcal users to send a message requesting a video or voice call or to simply 'check-in' to let you know they are OK. For peace of mind, you can schedule alerts requesting them to 'check-in'.

Messages
Kitcal helps whānau and friends stay connected with two-way messaging. Messages are sent to the Kitcal tablet via the Kitcal Companion mobile app; seniors using the Kitcal tablet reply using a series of emojis.

Calendar
The Kitcal Calendar helps seniors to stay connected to events happening each day and week – from lawn bowls to family birthdays. It is managed remotely from the Companion mobile app, with alerts and reminders to help ensure nothing is missed.
Photos
Photos and videos can be sent from friends and family to the Kitcal tablet; seniors using the Kitcal tablet reply using a series of emojis.

Self Help
The 'Self Help' button has an inbuilt help guide with clear instructions and helpful tips for using Kitcal.
---
The Kitcal Tablet
With Kitcal, less is more. Designed specifically for the senior people in your life, it's a dedicated, personalised tablet with a large display screen – no tricky keyboards or multiple apps to navigate.
Personalised Tablet
The Kitcal tablet, with its single preloaded app, is personalised and ready to go straight out of the box.
Keyboard Free
The Kitcal tablet is keyboard free. Seniors reply to messages and photos using a series of emojis.
Data Plan Included
No need for Wi-Fi or an internet account as the Kitcal subscription covers monthly data.
Developed with Experts
Kitcal was developed with help from healthcare professionals so that it's easy to read with appropriate symbols, colours and fonts for senior family members.
Multilingual Options
The Kitcal tablet can be displayed in English or te reo Māori.
Easy Charging
A magnetic charging connection makes it simple to keep the Kitcal tablet charged.
Repurpose Kitcal
If the Kitcal® tablet is no longer needed, we can unlock the Kitcal® software so that the tablet can be used for other purposes after the subscription is cancelled.
---
The Kitcal Companion app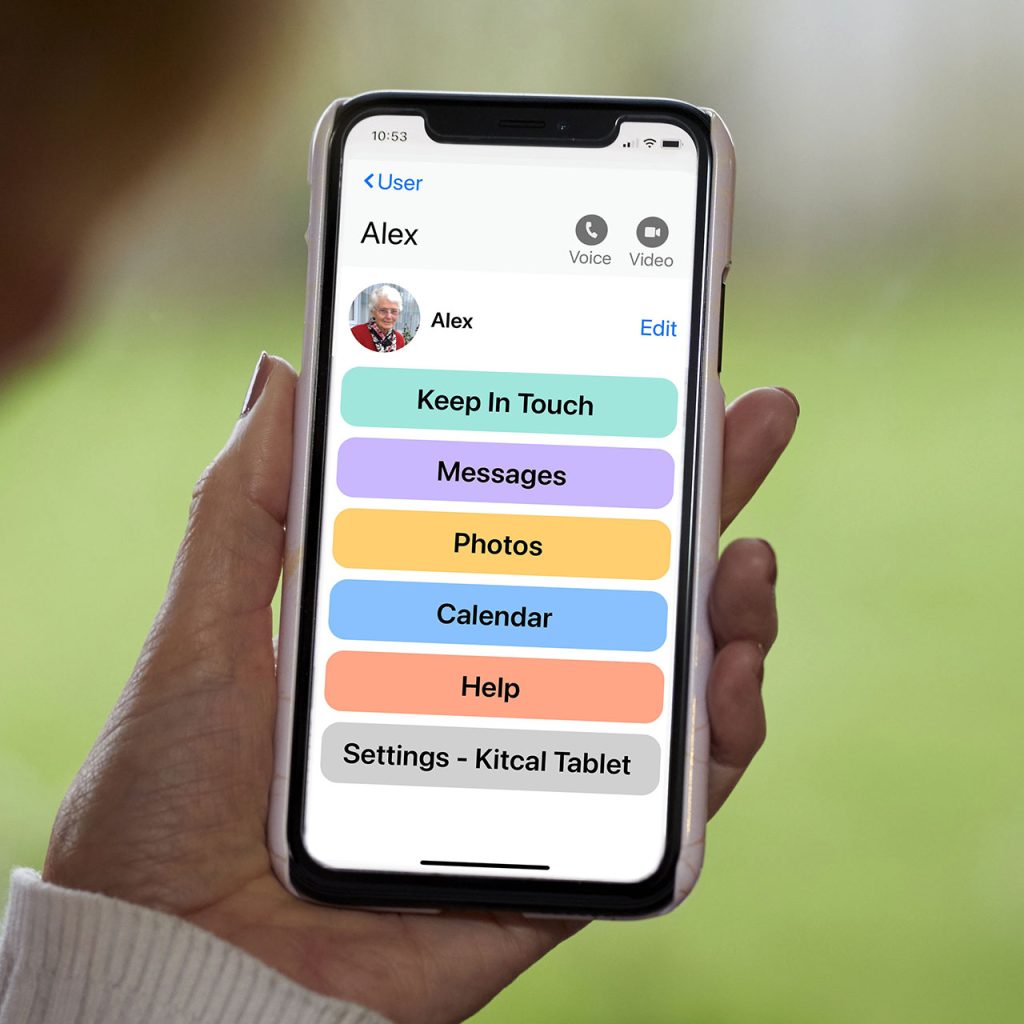 With Kitcal, family and friends can easily voice or video call or send photos and messages directly to the tablet and remotely manage the calendar via a dedicated mobile app.
Simply download the free Companion app on your smart phone to start connecting with the senior generation through their Kitcal tablet.
Three types of Companions
Admin Companion
Primary Account Control
Each Kitcal device has an 'administrator' who oversees the account. The Admin Companion can customise the Kitcal tablet remotely, including updating calendar events, requesting 'check ins' and inviting others to connect to the Kitcal tablet.
Carer Companion
Additional Remote Control
Carer Companions (including the Admin Companion) can add and update calendar events, request 'check ins' and invite others to connect to the Kitcal tablet.
Social Companion
Helping the Whole Family Keep in Touch
Social Companions are friends and family who do not need access to the 'Calendar' or 'Keep in Touch' functions. Like the 'Admin' and 'Carer' Companions, they are able to voice or video call, share photos, videos and messages with the Kitcal user.